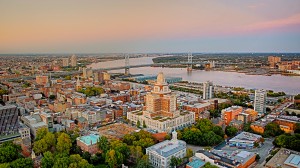 We specialize in Aerial photography for realtors, resorts, commercial & residential property investors, home owners, golf courses, casinos, private investigators, accident investigators, insurance adjusters and more. While flying drones is our passion, we want to share the amazing aerial views we are able to capture with outstanding photography.
Aerial Photography
We capture all aerial photographs with a full-frame digital SLR camera with a variety of lenses that allows for high quality RAW images. Our aerial video is captured with the Canon 5d Mark III for amazing footage in full 1080p high definition video.
360° Aerial Panoramic Photography
Excellent for high rise condo/building promotion. Show a prospective buyer of a condominium their views before the building is even completed is a huge benefit to any developer trying to market their new project.
Don't miss this excellent opportunity to access high quality and affordable aerial photography.
Ready to Fly?
So are we! Tell us about your project and we'll reach out to discuss the next steps for building a flight plan and project estimate.