Using the highest quality radiometric thermal imagers, coupled with professionally piloted unmanned aerial vehicles is indeed a digital revolution that Harmony Drones has pioneered from the onset of the emergence of drone technology as far back as 2012.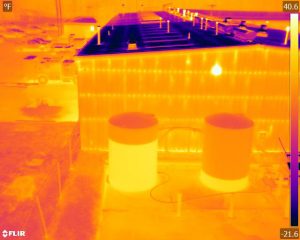 Now, in 2019, Harmony Drones has found itself on the razors edge – the 3.0 era of construction, project, and facility operational management.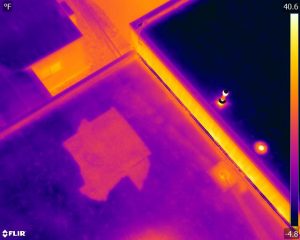 In this context of growing technicality, the changes that can be made by drone imagery profoundly modify the roles assigned to engineers, surveyors, field technicians and site managers, architects and project managers.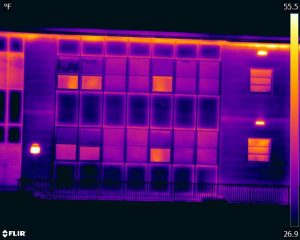 Finally, the desk engineers working downstream are processing the data and making recommendations.
For Harmony Drones and our thermal energy audit clients, the math is simple.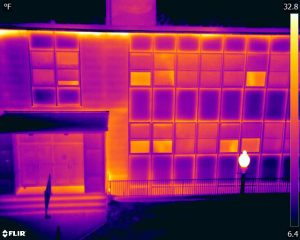 Drones + thermal imagery + proprietary post production methods = easily to digest, highly accurate energy audit and anomaly reporting that reduce costs.
Energy engineering + drone thermography audits = Facility energy efficiency gains.
Systematically, drone thermography is offered to our clients as a decision-making tool to define or prioritize renovation or energy optimization work.
In addition, thermographic inspection is a powerful solution for providing quality data for diagnostic missions or technical inspections of buildings.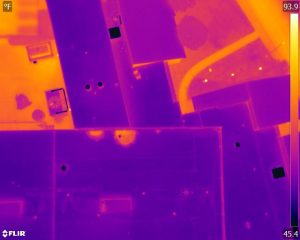 Thermal energy opportunities commonly found by Harmony Drones flight crews:
Control of the insulation of the walls and facades,
The identification and quantification of thermal bridges,
The detection of defects in joinery and door frames,
Leakage control of fluid networks (heating, ventilation and air conditioning),
Detection of breaks in hot water pipes and hot air pipes,
The identification of water infiltration in the building.
Construction, building and public works companies are currently on the verge of completely reinventing their design and construction approaches and processes by way of the thermally equipped drone. In this way, aerial thermal imagery is one of the most appropriate complement to the ecosystem of construction and public works companies.
The use of thermal imagery shot from the payloads of drone technology can be generalized as an indispensable tool for the validation of energy efficiency criteria.
At Harmony Drones, the thermal anomalies our flight crews commonly find include thermal anomalies such as air leaks, cracks, deterioration, rust, missing or damaged insulation and areas on the rooftops and around windows with moisture content that would affect a building's energy use.
In-house facility managers routinely recommend fixing issues of thermal bridging or examining the durability of construction materials found in old and within new construction based on our thermal findings just days after we launch.
Thermal imaging is an important technique for assessing energy efficiency. Employing aerial thermal imagery to perform energy audits is both swift and cost efficient over traditional energy audit collection means. A building may be recently constructed with a newly installed and energy efficient system, but it's all for naught if the building's facade leaks.
Our Harmony Drones team is capable of deploying at the most ideal time of day for anomaly capture with thermal cameras. We can also capture wasted cooling or heating energy leaking through a faulty façade while providing easy to follow and easy to understand roofscape and façade anomaly reports that feature the large quantities of thermal imagery and video we collect of the property.
Many of our thermal roofscape and thermal energy audit clients report that the savings they enjoy from the detections of thermal inefficiency discovered by our drones pays for the cost of our services, typically from the very first flight we conduct for them.
Seeing IS believing, and with an aerial thermal imager flown by professionally licensed drone crews, we make believers out of the sceptics on every flight!
Bring us your challenge and experience the Harmony Drones solution!
Give us a call at (302) 894-7991 or send us an email at info@harmonydrones.com
Make sure you Join our Mailing List for more updates!